Bible Believers Ministries Inc.,
114-12 Rockaway Blvd.,
South Ozone Park,
Queens, NY 11420.


Directions & More/
USA Churches

---
---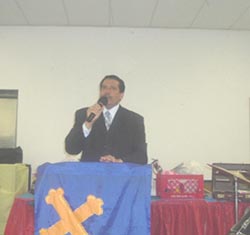 Founded in 1996 by Rev. Bhawanie Sheriff Rampersad (more commonly known as Pastor Sheriff), BIBLE BELIEVERS MINISTRIES is backed with over 30 years of ministerial and missions experience.
BBM is deeply involved in Bible believing Christian ministries, proclaiming Jesus Christ, King of kings, Lord of lords, the Almighty, the only Savior and hope of the world.
We are a Bible Believers Ministries Church, with a Caribbean oriented type of ministry, in New York City, presenting the Gospel of Jesus Christ, in Worship, Music, Preaching, Teaching, Christian Missions and Gospel singing. seeking to help the church in NYC and all people in other communities, to live purpose driven and meaningful lives.
Through our commitment, experience, and expertise BIBLE BELIEVERS MINISTRIES has established a loving relationship with all comers that we hope will last and produce eternal results.


For Questions, Prayer and Bible help, please call the phone numbers listed, or e-mail us.
---

LOCATED AT:
(Formerly the Knots Landing Pavilion)
114-12 ROCKAWAY BLVD.,
SOUTH OZONE PARK,
QUEENS, NY 11420.
Tel: (718)- 322- 1900
Or - (631) 952 - 4676.
Or E-Mail: therevofbbm@yahoo.com
Or E-Mail: pastor@bbmny.org
Schedule Of Services:

Sunday School - 8:45 am. to 9:30am.
Sunday Worship Service- 9:40 am. to 11:45am.
Wednesday Bible Study & Deliverance - 7:30pm. to 9:00pm.
Friday Prayer Meeting - 7:30pm. to 9:00pm.
---
Statement of Faith.
We believe that the Holy Bible is the pure unadulterated WORD OF GOD, and accept such as the only infallible, impregnable and immutable guide and rule of our faith and practice. 2 Tim. 3:16-17
We believe in the Triune God, the co-equality of God the Father, God the son, and God the Holy Spirit. Gen.1: 26.
We believe that Jesus Christ was foreordained from before the foundation of the world, to shed his innocent blood for the salvation of humanity, and as such become the only way whereby man can be redeemed. I Peter 1:19-20.
We believe that a Christian is one who has been delivered from the penalty of sin by the Grace of God and quickened by the Holy Spirit, being given power to overcome the enemy and live a victorious life. Romans. 8:1-2.
We believe that water baptism by immersion is commanded by God in the name of the Father, the Son, and of the Holy Ghost. We further believe that water baptism cannot save someone but is an outward sign of an inward relationship with Jesus Christ. Matt. 28:19.
We believe in the baptism of the Holy Spirit as a Christian experience, evidence by speaking in tongues as the Spirit gives utterance. It is the enduement of power from God for service and should be experienced by every believer. John 14: 16.
We believe in miracles, in divine healing that comes from the power of God in answer to active faith and believing prayer. James 5:14-16.
We believe in the progressive and total development of the Christian believer and therefore have adopted the fundamental principles of NURTURING and CARING for the individual child of God and the universal Church of Jesus Christ. I Peter 2:2 Acts 2:41-47.
We believe that the institution of Marriage was ordained by Almighty God and was commanded to be honorable among all people. We further believe that a Christian should not marry an unsaved person. Matt.19: 5 Cor. 6:14.
We believe in the Biblical principal of Tithing. That the believer should tithe one tenth of their GROSS earnings to the Lord's storehouse. Rather than being a Church rule or obligation we further believe that it is a Spiritual act of worship unto the Lord. Matt. 23:23.
We believe that the Government is ordained of God and that all believers should be subject to the laws of the land to the extent that they are not in conflict with the will of God as is stated in the Holy Bible. Romans 13: 1-7 Acts5: 29.
We believe in the Second Coming of Jesus Christ, that is literal, it is personal, it is visible and it is bodily. We believe in the Rapture of the Church, when Christ shall return For His saints, they that are dead to be resurrected and they who are alive to be translated. We further believe that this will be followed by the REVELATION of Christ, returning WITH His saints to end the Great Tribulation and set up the Millennium Kingdom. 2 Tim. 4:1-2, Acts 1:11, I Thess. 4:13-17 Rev.10: 24-25.
We believe in the final judgement of the world, in the literal place called Hell prepared for the Devil and his angels and for they whose names are not found in the Lambís Book of Life. We further believe in the Eternal Place called Heaven where God dwells and where Christ has gone to prepare for all His saints. Rev. 20:10-14 and 15 Rev.21: 7-8.
We believe that Jesus Christ is Lord, He has risen from the dead and He is Lord. That His return is very real, and as such all believers should live a Holy life, walking in the Spirit, lifting up His mighty name, loving one another, and laboring for the Master from dawn till the setting sun, knowing for a certainty that our labor in the Lord is not in vain. Eph. 4: 1-6 Eph 5:1-2 I Cor.15: 58.
(Rev. Dr. Bhawanie Rampersad .)
---

Home Page | Site Map | Pastor's Word | Ministries | Coming Events