"Miracle Child (...Continued)
was not due until February 14, 1993. I went to the doctor on December 22, 1992 and he said enjoy the holidays and I'll see you in two weeks. The next day I got up and went into premature labor.
A friend took me to the hospital and the prognosis was not a good one. I was told that the baby was extremely underdeveloped- the lungs were immature; the brain was not fully developed; there were many problems with the heart and liver too. They began to give me medication to slow the contractions, but to no avail. After two hours, of uncertainty and a host of medical professionals in and out the room, they told me they were unable to prevent the contractions, and that the baby will have to be delivered today. In addition to the internal complications, the baby was breached and this posed further risks to him. I was briefed about the extent of the complications of the baby and the delivery and told what to expect.
On Thursday December 23, 1992 at 2:23 pm, Dylon Rambharose entered this world. He was the tiniest baby I had ever seen, not a healthy pink color, but rather a grayish color and his lungs were so underdeveloped that no sounds were coming out. I knew that this did not appear to be positive signs. He was quickly whisked away to an incubator and I was left with the most empty, hopeless feeling that is inexplicable. It was as though I had just brought life into the world, but death seemed to follow close behind it.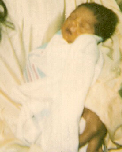 Dylon was transferred later that day to Maimonides Hospital, to their Neo-Natal Intensive Care Unit, since the one at Lutheran was unable to provide the level of care he needed. On Friday morning I froze in fear as I saw two doctors walking towards me with a paper in their hand. I thought that he had died. However, he needed to have a surgical performed since a tube had broken inside of him- not even eighteen hours into this world and he had to have surgery! On that same night, in the middle of our first snow-storm, with temperatures in the low teens, I checked myself out against doctor's orders.
When I got to the NICU, what I saw that night was the most frightening thing a mother can see. Dylon, no bigger than a two-liter bottle, was strapped down, a tube hanging out from his belly button, an IV in his hand, a tube inserted into his mouth, his eyes covered with a blind fold, under the strong UV light. His liver was failing and in addition to the other problems he had developed a severe case of jaundice. He was crying, but no sounds came out, and I lost it. I felt God was very unfair. How could He do this? After all, was there not some other unsaved person He could torture?
During the next couple of days things began to deteriorate. His lungs were not responding to the regimen of medicine, so he stayed on the oxygen for longer than expected. He was fed through a tube in his nose, since he had the breathing tube in his mouth. We then got the news that there was a hole in the heart and they would try to close it up with medication. After the initial bout with jaundice, his liver began to malfunction again, and he was given blood transfusions. Dylon's stay in the ICU was filled with pain and uncertainty… They had inserted so many tubes into his tiny veins, that they began to give him the IV through veins in his head. There were many days that I would leave to go home and shower and then I would get a call to come back, since he did not look so good. One day they told us that he had improved and we can try to feed him with a bottle. My mother and I sat and began to feed him. Suddenly, he began to turn that grayish-blue color and we yelled for the nurse. I watched my child's heartbeat get lower and lower and I could do nothing to save him. He was again incubated and placed back in the respirator.
Dylon stayed 56 days in the NICU and on the day we were bringing him home, I was excited and happy. I did not care if he was attached to monitors, since he was diagnosed with 'sleep apnea' and 'bracardia,' I was called one more time into the doctor's office. Sit down we were told. The final MRI on the brain showed that there was a dark area. "What did that mean?" I asked. Well, it could mean a lot of things, he said. It shows that that area has not developed and he may never walk, talk and he may be very delayed in all areas, he may be confined to a wheel-chair. The doctor must have seen my face, he told me, if you believe in God, pray, because anything could happen. Here I was, faced with a situation that was hopeless, with so many possible negative outcomes, and I was being witnessed to by a Hindu doctor! The Lord can send anyone to remind us of His power. We took Dylon with joy, yet with a certain amount of trepidation, for we did not know what to expect.
During the first months of his life we had our uncertainties with him. At eight months, I took him to the doctor and they told me that he had 'strabismus' a turning of the eye, which originates with the malfunction of the brain. He got his eyes tested and began to wear glasses. At ten months, I took him to the cardiologist and they said that the hole in his heart was not fully closed up and they needed to perform surgery, since the heart was being overstressed. I shared this news with our church and our Pastor encouraged the members to fast and pray for this situation. This was on a Sunday. Dylon was taken the next day for tests and the hole was still there. We continued to pray. On the Thursday, the day before the scheduled surgery, he went in for his pre-op tests. I was told to wait outside while the cardiologists checked him. I began to notice a flurry of doctors going in and out of the room with a look of confusion on their faces. What could possibly go wrong now! Finally, the doctor came out. "Mrs. Rambharose, I am unable to find the hole in Dylon's heart, I even got the pediatric cardiologist to verify, and we cannot find it. You can take him home, there will be no surgery." I looked at their confused faces, but I fully understood what had happened. Our prayers and fasting worked, Dylon's hole had completely closed up, and it was because of God's grace towards this child.
Dylon had great difficulty standing and walking, however, he was a speed creeper and he managed to get into all the trouble little ones got into. Yet, at seventeen months he still had not taken his first independent steps. I was told that he had cerebral palsy, and this would delay him. There was also a good possibility that he would never walk. Every week, rain or snow, four days a week, Dylon and I would take the B63 to Lutheran for physical, occupational and speech therapy. I refused to have my child that had beat the odds and survived, be placed in a wheel-chair. It was time to get very serious with God. I began to challenge God, "if you're real, make him walk! If you're real make him talk clearly! If you're real do something now!" Dylon took his first independent step at 18 months on a right foot that was twisted in and a heel that did not reach the ground. His therapists were amazed. I was convinced that my God is real, and His healing power is real, and that He hears the cries of His children.
At age 2, he had an Achilles heel release to lengthen his tendon, and at age 7, he had a more intense surgery that required some muscles to be switched around. Prior to this surgery, we were told that the X-rays showed that some bones were out of position and they would have to be broken and re-set during surgery. However, once again, when they went in, the bones were set in the right position and God spared Dylon the pain once again. At five, he had the first surgery to correct his vision and another at age seven and a half. At age nine, the pediatric ophthalmologist told me that he had 'retinal degeneration' and he would be blind at fifteen, since it is a degenerative disease. We took him to various specialists and again the final report was that Dylon's eyes are fine. These are just a few of the bigger miracles that had surrounded this child's entrance into and existence in this world.
As a very young child, in his burbled and unclear speech, Dylon would praise the Lord, sing praises, pray for himself and others, and preach God's Word. He was an encouragement for us the parents and to many around him. He was determined to survive and I always tell him that he fought for his spot on earth and do not let the Devil take it away from him.


Today Dylon stands before you, a strapping, handsome, talented young man; a young man whose life had touched the heart of the Creator. A young man who was going to be retarded- now has an above-average IQ; a young man that would be dumb- now sings for God's glory; a young man that was going to be in a wheel-chair- now walking and sharing tracts for God's kingdom; a young man whose hands were to be shriveled and useless- now uses those fingers to play the piano; a young man who was to be blind at 15- now using those eyes to read God's Word; a young man whose future was grim is now glowing in the goodness and mercy of God.
I am convinced that as my Jesus took those 39 stripes, He had Dylon on His mind. As the blood and water flowed, Dylon was on His mind- for He knew him before he was formed. But what is more amazing, is that the same healing power that was provided to Dylon, is also there for you to tap into. All you have to do is believe. God can do anything, even if it seems hopeless in our eyes, there is healing in the blood, and power in the blood. And whenever you doubt it, just remember Dylon, for he reminds us of God's power every day.


(By Fazzy Rambharose)