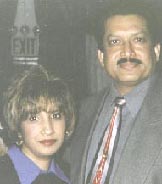 From the Desk of the Founding Pastor.
---
"The Jericho Jig."
Joshua 6:1-27. (The lively/victorious dance for the Jericho experience).
Based on a seemingly foolish command; to march, and then shout, to win the war?
1). It is a walk for the men (women) of warfare. Are you prepared for the battle that confronts you?
2). It is a perfectly silent walk of faith. It is time to stop talking and start walking silently in faith around the problems and obstacles that are in your way.
3). It is a walk of willful obedience to God's order. They had to march around the walls once a day for six days, and seven times on the seventh day. It would have been not only a seeminly foolish idea for a victory, but also a very tiresome march doing the distance around the walls of Jericho.
How far are you willing to go to obey God even if it seems 'foolish', or if it seems long and tiring?
4). It is a 'Priestly led' walk. Who is leading the charge against the enemy? Where are the 'priests' in the home, church and society? Note, 'priests' here means any man or woman who is willing to walk in faith and obedience to God; one who is willing to stand before God for others and the challenges of our day.
We can have the victory over the battles and circumstances of our lives if we are willing to do the 'Jericho Jig.'
---
A Time to move.
In Exodus, when the pillar of cloud or fire moved, Moses and God's people had to move on. God was leading His people to a new place and experience. He promised it would be a 'good' place and He would always be with them .
It is Time to Pray. ... 'in sackcloth and ashes,' for His mercy and grace to come upon us and our generation.
It is Time to Praise God. ... for the great things He has done, for the miracles He has performed, for who He is.
It is Time to Prepare. ... for the greater things that he is about to do.
It is Time to Press forward. ... to 'Dioko' for the breakthrough God is about to give to His people.
It is Time to Prevail. ... knowing that 'if God be for us, who can be against us?'
---
The 5 'MUST'S' to move on....
Why 'Must' we move forward? What are our goals? Why we need these 'Must's' to accomplish them.

We 'Must' labor with intensity, agression and committment in the kingdom 'together' (unity).
We are building something. In Matt.18:19-20 Jesus tells us that we shall have the answer for whatever we ask of the Father, if we walk in unity/agreement. In Eccles. 4:9-12 we learn that unity gives us power, production and protection.
1Cor. chapter 12 speaks entirely about all believers being a part of the same 'body'. Every one of us need each other for the proper functioning of the 'body'. Amos 3:3 states, "can two walk together except they be agreed?"
In Genesis 11 we have God's statement at Babel, 'Behold they are one people...And now nothing will be holden from them, which they purpose to do."
We can have great accomplishments for the kingdom of God, but we must labor in unity.

We 'Must' live in peace with each other.
Heb. 12:14. 'Follow (Dioko/pursue) peace with all men.'
We may not agree with everything that is said or done, but we must 'pursue' peace if we are to work in unity to accomplish the task and ministry God expects of us.This is our duty, even in the midst of turmoil, misunderstandings, uproar, accusations, and all else.
This peace comes only through a personal relationship with "The Prince of Peace." Having experienced this peace, the true believer can now live the life.
If we are to please God and do His will, then we must live in peace with each other.
We 'Must learn to forgive one another.'
Read Matthew 5:23-24; 18:15-17, 21-22; Mark 11:25-26. The Bible teaches us that we must forgive 70 times 7 (unlimited times). If we do not forgive others, neither will our heavenly Father forgive us our sins. Then when we bring our gift to the altar and remember 'your brother has done you wrong, leave your gift at the altar, go to the brother and make ammends, then give your gift.' We must make it right even if we feel 'our brother has offended us.'
Remember the prodigal son? We must learn to forgive one another no matter what the wrong.
We 'Must leave the past behind.'
Phil. 3:13. The Past has always impacted our future. The burdens of the past can hold us back from going forward to success. "Forgetting the past, ...let us press (Dioko) toward the prize."
If we are to achieve, "we must leave the past behind.'
We 'Must love one another.'
Read Matthew 5:43-47; Eph.5:1-2; 1John 4:7-8. 'To truly love' means to 'seek the interest of the other.' "He that loveth not, knoweth not God, for God is love. Beloved let us, (we must) love one another."
(Pastor Sheriff Rampersad - 01/03/10; 08/29/10).
---
A Triumphant Christian Life.
You can live a triumphant Christian life. 2Cor. 2:14-17 give some important principles.

Learn how to pray. There are no shortcuts to pray. Develop your schedule. Appoint a place, time, and pattern.
Learn to totally yield yourself to the Spirit. Those that are led by the Spirit are the sons of God. This can only happen when you surrender completely to Him.
Know the Word. Read, understand and memorize God's Word. You cannot use what you don't have.
Know how to use the Word. The Word is quick, powerful and sharp.
Know who you are in Christ. Your position - destined for greatness, built to be habitable by God.
Know the enemy. Without this knowledge, the battle is already lost.
Be totally committed. It's a lifestyle, not spontaneous, or when you feel like it.
Learn how to live the Faith life. The just shall live by Faith. Hab. 2:4.
Seek daily cleansing. We are not perfect.
Guard what you feed on.
Learn to practice the power of praise. The enemy is allergic to praise. When you praise:
- Burdens are lifted.
- Atmosphere is changed.
- Attitude is transformed.

Learn to be quiet in the presence of God. Listen for an answer, for directions. How often we do not give God an opportunity for response.
Read 2nd. Cor. 4: 8-9; 16-18. We are troubled ... not distressed, persecuted, but not forsaken, cast down, not destroyed.
For our "Light affliction which is for a moment, worketh for us, a far more excellent weight of glory."

(Pastor Sheriff Rampersad).
---
About Trials.
We live in troubling times. Times of great sorrow, pain, distress and discouragement, in a world changed since September 11, 2001.
As you face your situation, let me encourage you to read the book of 1 Peter, to find a personal missile sent from God's arsenal of encouragement, targeted for your heart.
Peter gives 4 Pills for our pain:
Trials may vary, but you are valuable.
Trials may seem unreasonable, but they have their reason.
Trials are inevitable.
Trials are temporal, not eternal.
Keep pressing on, knowing you too can make it despite whatever.


(Pastor Sheriff Rampersad).
---
The Lord Shall Fight for You.
Isaiah 59:1 says, "Behold the Lord's hand is not shortened, that it cannot save. Neither His ear heavy, that it cannot hear."
First let us see who is this God that fights for you.
Isaiah 40:28, "Hast thou not known? Hast thou not heard that the everlasting God, the Lord, the creator of the ends of the earth, fainteth not neither is weary. There is no searching of His understanding."
Isaiah 40:25-26. "To whom then will ye liken me, or shall I be equal? saith the Holy One. Lift up your eyes and behold who hath created these things, that bringeth out their host by number. He calleth them all by names, by the greatness of His might, for He is strong in power. Not one faileth."
Isaiah 55:8-9. "For my thoughts are not your thoughts, neither your ways my ways, saith the Lord. For as the heavens are higher than the earth, so are my ways higher than your ways and my thoughts higher than your thoughts."
Now this is what He will do for you.
Exodus 14:14. "The Lord shall fight for you, and ye shall hold your peace."
Deut. 1:30. "The Lord your God which goeth before you, He shall fight for you."
Deut. 3:22. "Ye shall not fear them, for the Lord your God, He shall fight for you."
Deut. 20:3. "For the Lord your God is He that goeth with you, to fight for you against your enemies to save you,"
2 Chr. 32:8. "With Him is an arm of flesh, with us is the Lord our God to help us and to fight our battles."
1 Samuel 17:47. "For the battle is the Lord's, and He will give you into our hands."
Let us understand why God will do this for you.
He will do it because, "He cares for you." (1 Peter 5:7). He loves you, "Greater love hath no man than this."

(Pastor Sheriff Rampersad.)

---
For Questions, Prayer and Bible help, please call the phone numbers listed, or E-mail us.